Outstanding Staff Team Award Winner 2017
Project Management Drawings Initiative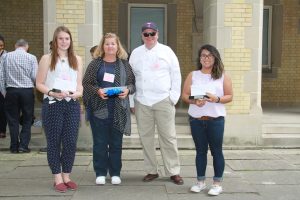 ---
Unit:
University Planning Design and Construction
Role:
Project Management Drawings Initiative
Citation
Audrey Vince
Vanessa Miraples
Sarah Kelly

Drawings of University buildings and renovations over many decades have been stored in several storage rooms on campus. Given its size, this resource of over 10,000 drawings and documents has been largely inaccessible. Organization of this collection required an understanding of archiving and storage with an emphasis on retrieval.

This team developed plans for maintaining and adding to the existing inventory. In the first year, over 4800 rolls (equivalent to 40,000 pages) were handled, sorted, reviewed and tagged for next step. This is a multi-year project that has greatly enhanced our ability to retrieve documents essential to new projects, and uncovered historical documents which more appropriately belong in University archives.

To the team, this project is not about handling old, dusty, forgotten pieces of paper, velum or blueprint. It is about respectfully reviewing and considering information for relevance and historical perspective. Vanessa, Sarah and Audrey do this with commitment, excitement, ingenuity and happiness.