Outstanding Individual Employee Award Winner 2017
June Cheng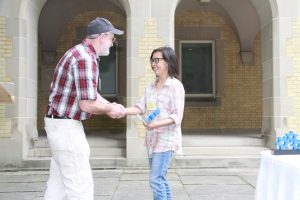 ---
Unit:
Information Technology Services
Role:
Information Technology Analyst, EASI
Citation
As a senior programmer on the Student Information System team, June Cheng is one of a handful of staff at U of T who truly understands the murky and complex inner workings of the ROSI mainframe system. So when the tough jobs come up, the EASI team turns to June. And so we did in October 2014 when the province decided to change the entire OUAC application process causing a two year re-write of this interface to U of T. As the "Team Lead", June displayed her true colours - balancing multiple responsibilities including project management, analysis, coding and testing of the application, successfully delivering the project on time for the institution. Throughout this project and many others, the SIS team has come to rely on June's leadership skills, technical expertise, and in-depth knowledge of ROSI to guide their work, and wish to have her recognised for her outstanding contributions to the University.