Outstanding Individual Employee Award Winner 2016
Aris Manousos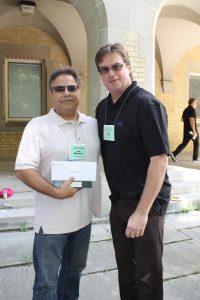 ---
Unit:
Facilities and Services
Role:
Property Manager
Citation
"What makes Aris an outstanding individual? For those of us in Facilities Management & Space Planning in the Faculty of Medicine, it is this – he clearly cares about people and maintains and fosters a good collaborative working environment.

Aris Manousos exemplifies the qualities necessary for an effective and professional property manager. He knows how to get things done in a timely and cost efficient manner. He manages multiple highly complex buildings primarily occupied by the Faculty of Medicine, a demanding client group (we know!). Is there a more complex building on campus than Medical Sciences? Mix classrooms, a 500 seat auditorium, laboratories including level 3 (there are only 4 levels), offices, comparative medicine, magnets (NMR), gross anatomy (yes, it's gross) with cafeterias, coffee shops, 30 perimeter points of access, a busy loading dock and store, all with asbestos – you have the definition of complexity. Does Aris manage only this one building? No, he manages a portfolio of buildings! Add to this, CCBR, another lab building which happens to have with specialty bamboo garden and winter gardens (those wacky architects); 500 University (where the skin is peeling off); FitzGerald (historically designated), C. David Naylor (should be historically designated) and McMurrich."

This sentiment was echoed by a member of our own Caretaking staff who nominated Aris also.